These are a few of the dogs we have produced and/or trained over the years……
Our breeding program is focused on health, trainability, overall performance, and last but not least, ease of handling. Everyone is not a professional dog trainer or handler, so we attempt to produce dogs an average duck hunter can handle with ease. They can enjoy hunting without the frustration of an uncontrollable dog. Hard driving, excellent performing retrievers, with great retrieve desire can be produced without force fetching. Our training techniques teach dogs to have fun while they are retrieving.You just need to be selective with the bloodlines and training programs you choose. If you have a dog from us, and want to see their picture on our produced page just email it over.
See what our clients to say about our dogs, and their performances !
____________________________________________________
Dan Braman 4.16.2017 Red Molly
I have had labs my entire life and hunt more then most each and every year. When my old dog got to where he couldn't hunt any longer I began looking for another dog. I called Ace and Tommy surprise we didn't talk much about dogs but rather my personality. After our discussion he asked me to his place to look at a couple dogs. I found it truly amazing that he was more concerned in pairing my personality with the right dog then just selling me any dog. I am a guy that demands perfection from a dog and Ace was able to notice that just by talking with me. While at Ace's place he said that he had a red female that was somewhat head strong and would need an owner that would keep her respect on a high level. From the moment they brought Molly out and I threw a tennis ball we have never been apart. In the seasons that I've hunter her she has retrieved slightly over a thousand birds to my hand, she has likewise learned to be a decoy dog while coyote hunting, and track blood on cripple deer. Molly also turkey hunts with me and will lie flat down on the ground as the turkeys come in. I can say with absolute honesty that in all of this time hunting with Molly I have used the word "no" exactly three times. There no chance I'll ever get any dog from anyone but Ace. The honesty, willingness to answer my questions, and continued friendship is unreal.
Dan Braman. Mellon Creek Outfitters / WildlifersTV
https://www.melloncreekoutfitters.com
http://wildlifers.tv
https://www.facebook.com/wildliferstvshow/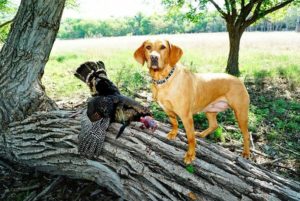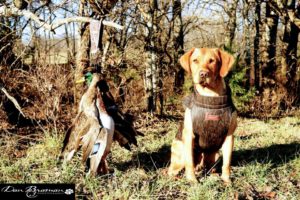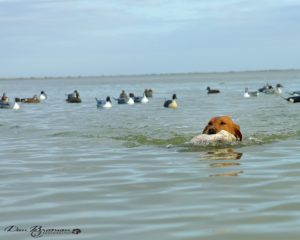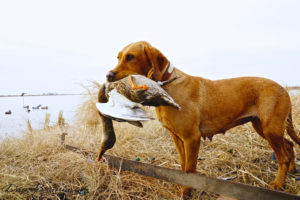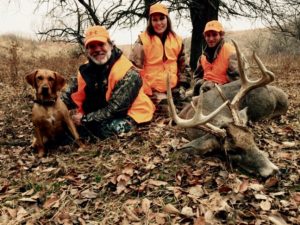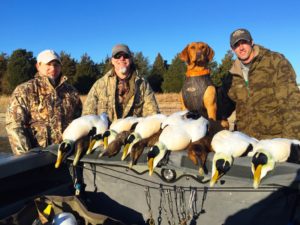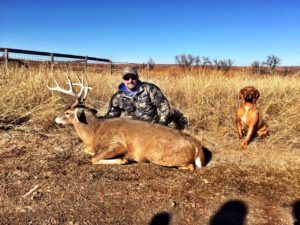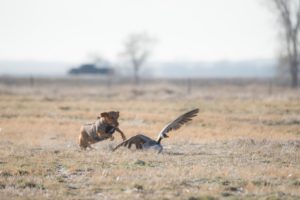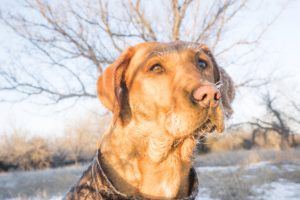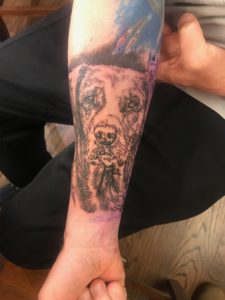 ____________________________________________________
Isabella von Roemeling 4.2.2017
Tommy,
Just wanted to send a quick hello and thanks again for the wonderful pup (named jaeger) that you entrusted to us! It's been 5 months (Jaeger is 7 months old) since we picked him up and he is a wonderful companion.
Thanks again!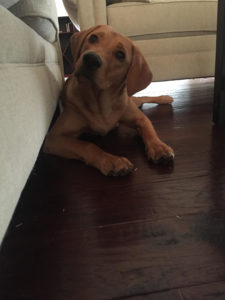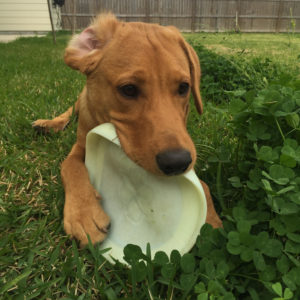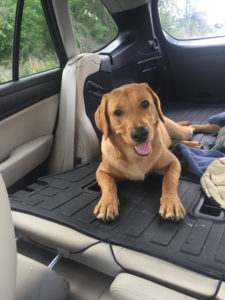 ___________________________________________________
Gary Wright 3.23.2017
Abby was 1 year old on March 4th and is around 50 lbs. We have been shed hunting but haven't found any yet except the ones I plant for her to find. I have no doubt she will find them if they are in the area.  She quarters out with her nose going all the time, but don't get too far away.
She found a deer for me after dark that had gone about 2 hundred yards. When I shot, 4 or 5 deer went in different directions, but she only tracked the one I shot with my crossbow. Without her it would have been the next mourning before I recovered the deer.  I use a bell and strobe on a special collar and she knows exactly what I want her to do when I put it on her and say find the deer.  I can take deer hide from the freezer and make a big circular drag and just start her on it and even without me going with her she will track it down and retrieve it back to me.  I don't use a lead on her she is way to fast.  That is why I use the bell and strobe. She is making a find blood trailing and shed hunting dog as well as a good house pet. The only problem I have is she wants to lick you and nudge you with her nose all the time, especially my wife.  I can say no and keep her under control.  I think she is still acting a lot like a puppy even though she weighs 50 lbs.  Feel free to have anyone looking to buy a pup contact me for a reference.  I would definitely buy her full red sister.
Gary Wright
____________________________________________________
Candice Caravella – 2.10.2014
Hi Ace, my fiancée and I purchased a British fox red lab from you back in 2012. We Just wanted to share some pictures with you and to let you know how happy we are with our boy Drake! He is a great hunter, companion, protector and cuddler! Thanks again for changing our lives with this amazing dog! Son of Diablo & goose. Born 12.30.11
____________________________________________________
Billy Haney, MS – 12/28/13 – Finished Dog Ruff
For two years I have been working with Ace in getting a puppy to train. THERE WAS MORE THAN ONE PROBLEM BUT JUST THE THINGS THAT CAN GO WRONG IN THE BEST LAID PLANS, I finally decided to try and acquire an imported dog that was ready to go. I was very hesitant but Ace was very patient. He had a dog that I really liked so we made a deal. Ruff is everything I had dreamed about. He has become a member of the Haney family. Ace worked with us and we are bonding. He told me he wsas quick and smart. Boy was that an understatement! He is explosive and quick. In Si Robertsons words, we are happy, happy, happy! If you want a dog, meet and talk to Ace. He knows his stuff!
____________________________________________________
12.14.2013, Finished Dog Bale
This morning was opening day after the split. I have been working with bale every day for the last 8 days. He has done excellent during workouts My buddy Matt and I shot 7 teal 1 canvasback 1 gadwall 2 shovelers and 1 widgeon. Bale preformed flawless. I need to get him use to getting up on the dog stand. Canvasback was over 200 yard blind. All the other duck except for the teal were all 100-150 yards and I pushed him off all the long blinds. I couldn't have got a dog that was this dialed in. Thanks again Ace. Mark Forster, TX
____________________________________________________
Hi Ace, awesome news about Zeus… here's a photo of his son, Hercules – we had our early dove season this month and he hunted like a champion. He found and retrieved about 50 dove and is shaping up to be a fantastic beautiful dog – we couldn't be happier with him. We can't wait for duck season!
Devon F. Ayres

____________________________________________________
Here are a few pictures of Leila, she is doing great! She loves jumping off the pier and lives to retrieve. I've had dogs all my life but never one that I enjoyed more than Leila. She's well behaved (thanks to you) and eager to please. I've always been told you can't have a dog that's both a pet and will work but she's proven that mindset wrong. She loves playing with the kids and chasing a ball but when it's time to work she's ready to go.
The black dog in the blind with Leila is Sam, he's my brother's dog and is also one of yours.
April
____________________________________________________
Laten, Beauty, and Darcie. Crawfish boil. April 14, 2013.
Two really easy working dogs. Maybe Laten is a future Ace's Retrievers pro staffer? He certainly thinks so!
(and no, the music is not added, it was actually playing in Jonathan's truck!)
____________________________________________________
From Gary. 4.30.2013 – Oak

Ace,

I wasn't sure if I sent this to you or not. This was oak getting a Canadian I dropped over a farm pond in January. He is still doing great and will be ready for his second season this fall. We are more than pleased with him and all my buddies are amazed at his desire and drive to retrieve. Thanks again!

Gary
____________________________________________________

Awesome video of Jackson!

Started dog out of Diablo and Sadie!

____________________________________________________

Cody Fontenot – 3.7.2013

"Here are a couple of pics with my British labs. The 1st pic is a grandaughter of Diablo. She is 4 months old. 2nd pic. My two favorite boys. IKE, my 8 yr old son, & Drake, my 2yr old Diablo grandson doing what they love. Duck hunting."

____________________________________________________

2.16.2013 Just wanted to let you know River is doing well and has gotten used to her new home. She's made friends with my neighbors new pup and enjoys her trips in the car. She LOVES the pool and has fun playing with the kids. We are loving this wonderful dog!

Christy and Kevin Johnston, and girls.

____________________________________________________

Ace,

I just wanted to take a moment and thank you for the opportunity to own Dawson. I was incredibly skeptical at first as I had never duck hunted much less hunted with a dog. Having big game hunted all over the world, I was ready for something different and had made the decision that duck and goose hunting, specifically hunting with a dog, was next.

When I watched the video of Dawson on your site, I was hooked, although I really dont know why. I think it had to do with his attitude and I could immediately tell that he loved, no, he absolutely craved, retrieving and he craved pleasing you.

After getting home with him, I followed your advice and spent time with him EVERY day. Even if it was only for a couple of minutes working basic obedience or a couple of retrieves. I didn't know what I was doing and he was just a started dog, not a finished dog.
I watched your videos online every night and would practice what you teach the very next day.

The most important decision I made with Dawson was to go duck hunting with you the first few times. I will admit that with a started dog that had never hunted and having me giving him directions and I had never duck hunted, I was worried whether or not he would tie things together once we were in the field. I felt very confident working him at home with bumpers but I had butterflies like I was getting ready to play a football game that first morning we headed out to hunt ducks. Having you there to give directions to me was invaluable. Not only are you a bad ass duck hunter, you knew my dog. So the directions you gave me were specific to him and that made all the difference in the world.

I will never forget that morning when he made his first retrieve. Then he made his second and third and fourth. Then came the live bird and I was nervous that he might freak out over that. You said "send him". I sent him and he smashed the Mallard Drake and didnt even blink on the retrieve.

The other morning I will never forget was the morning you had me go lay on the levy and laughed at me as I showed you all how to do a perfect tuck and roll off of the back board to shoot ducks that came in behind me! That was the morning that Dawson finally picked up the birds in the air on their approach. From that moment on, it only takes one word…."Watch!!!" and Dawson starts scanning the sky. Once he sees the birds, he just starts quivering, waiting to retrieve! Often he will spot the birds before I see them. I have never seen a dog that loves what he does more than my dog, Dawson.

You bred him, you raised him, you started him, you went on his first hunts with me and him, and now i get to enjoy him!

Ace, thanks again!

Drayton Martin

____________________________________________________

I wanted to let you know how pleased I am with Misty. She is so full of energy and eager to please. I took her on her first hunt one week after I brought her home and all I can say is, "wow." We were shooting teal one after the other and it was chaos. She didn't miss a bird! The rest of the season she improved with every hunt. I'm looking forward to many years of hunting with my new friend and hunting partner. I would highly recommend your services to anyone in the market for great dog.

____________________________________________________

Just a few pictures of Drake's first year Duck hunting. He's a year and a half old, had your 4 week obedience training course at 6 months old and he's doing really good. I hope to have more time this year to work with him before next season but right now he's bringing back the ducks I'm sending him after so I couldn't ask for much more than that. Hope to have more pictures before the end of this season.





Thanks,




Jeremy Cooper, P.S.

| | | |
| --- | --- | --- |
| Drake – 1st year | Drake – 1st year | Drake – 2nd year |
| Drake – 3rd year – 1st deer trailed | Drake – 3rd year | Drake – 3rd year |

D
______________________________________________
Ace, Here are a few pictures of Palin's first season. We didn't hunt much with the new baby girl at home. But when we did, Palin was on point! She picked up 23 birds this year. I sent her to you to train while my wife and I cared for my brother after his terrible accident. I have always trained our dogs myself, but I was in no position to continue. Hurt brother, pregnant wife, and Palin was a very stubborn puppy (as I'm sure you remember). I was thoroughly impressed with what you were able to accomplish in such a short amount of time. You broke through with her, set a VERY solid foundation, and were always available for advice while I continued her training after bringing her home. CUSTOMER SERVICE AT ITS BEST! You did an EXCELLENT job with her and I got numerous compliments and inquiries about you and your staff throughout the season.

Now that things have settled down, my wife and I are planning to get another lab. Most likely one of your pups, but I wouldn't mind having a started dog from you either. We will be making that decision soon. Either way, I want you to train it. Thanks again for your help and continued service throughout the past year. I'll be in touch soon.
Best Regards,
W. Justin Rountree
______________________________________________
Just wanted to let you know how pleased we were with Sam. He has been one of the best
family dogs I've ever owned and that's saying a lot. He's great with the kids and my
5 year old can work him he's so easy to handle on his bumpers. He was truly impressive
afield too. He had 30-40 retrieves and a lot of them were blinds. Steady as a rock and
hunted from boats, blinds, stumps, logs and in all sorts of settings. It was his first season
and he found every bird he was sent on, including a couple I probably shouldn't have sent him for.
Thanks for the work you guys put into him, it is greatly appreciated.